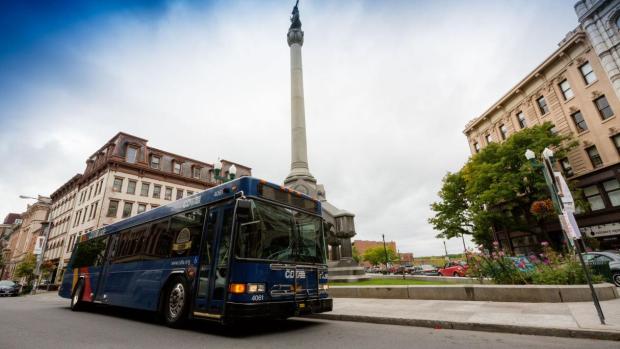 September 20, 2023
Latest Ridership Report Shows CDTA Surge in Ridership Post-Pandemic
ALBANY, NY (September 20, 2023) The Capital District Transportation Authority (CDTA) announced at its monthly board meeting on Wednesday, September 20, that ridership counts for the first five months of its fiscal year total 6.4 million. This is 18 percent more than the same time last year, and it is 100 percent of what it was before the pandemic halted our ridership. CDTA is leading upstate New York systems when it comes to a return to ridership.
This recovery is fueled by a well-designed route network, which provides customers with routes that have better frequencies and spans. CDTA has seen a shift in ridership patterns, and it continues to introduce services and programs to shift accordingly. Partnerships with the Capital Region business community have also continued to flourish and fuel ridership. CDTA has continued to add Universal Access partners, which provide employees and students throughout the Capital Region more service and better connections. At the present time, 40 partners are members of the Universal Access program that gives Capital Region employees and students a convenient and economically friendly way to travel for work and pleasure.
"Our commitment to customers by giving them routes with more frequency and span of service has proven to help our ridership recover post-pandemic," said Chairman of the Board Jayme Lahut. "CDTA has also added more service and better connections for major employers and educational institutions to fuel our Universal Access Program. UA program members may also access the expanded bike share (CDPHP Cycle!) and car share programs (DRIVE), which complement its traditional transit service network offerings. CDTA employees have been crucial to its development and their work is what is driving ridership back to 100 percent."
Discover Albany is the latest organization to join our Universal Access program. Employees of more than 175 promotional and non-profit promotional partners of Discover Albany will have unlimited ridership within CDTA's service network. The Discover Albany program has a particular focus on the Wolf Road corridor. With staffing issues being a major a hurdle for many hospitality businesses, the CDTA UA program helps to remove the obstacle of transportation for employees.
CDTA is getting ready to launch its third Bus Rapid Transit Line, the Purple Line, in November 2023. It will run along Washington and Western Avenues in the City of Albany. The addition of this BRT line is expected to continue fueling ridership as it will allow customers fast, accessible, and affordable access to more destinations across the Capital Region.
###