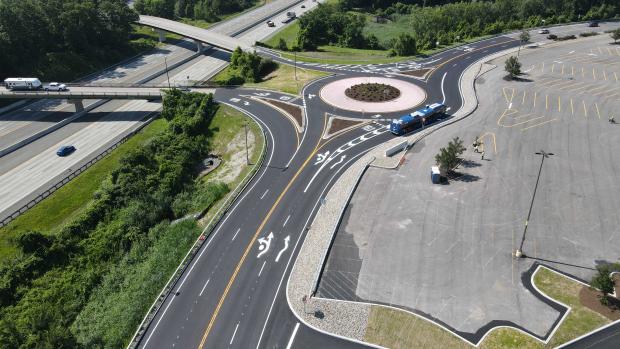 July 21, 2023
CDTA Completes Project to Help Move the Capital Region Forward
ALBANY, NY (July 21, 2023) The Capital District Transportation Authority (CDTA) has completed construction of a new roundabout at Crossgates Mall, replacing the traffic signal that was located at the access road to and from the I-87 Northway, as part of its Purple Line Project. The roundabout project, which began in late April, finished on time and on budget for $3.1 million.
Traffic signal upgrades, repaving, and restriping complemented the project, as did landscaping to beautify the area. These improvements will help with the flow of buses in and around Crossgates Mall, which is one of CDTA's busiest bus stops.  The roundabout is ready for the upcoming Purple Line launch in November 2023 and will help with traffic for future developments in the area.
This is one of many investments CDTA is currently working on with community partners to increase access to transit, improve services, and upgrade infrastructure. The Purple Line will be CDTA's third bus rapid transit line and will run along Washington and Western Avenues in the City of Albany. The Purple Line will also connect to the existing Red and Blue Lines, allowing riders fast, accessible, and affordable access to destinations across the Capital Region.
To learn about the Purple Line and other infrastructure improvements CDTA is making in the region, head to our Capital Projects website: https://projects.cdta.org/
###