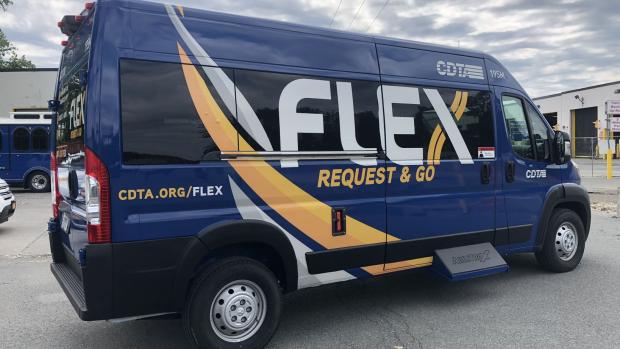 August 09, 2023
Bookings Exclusively in Navigator App with Updated Coverage Area
ALBANY, NY (August 9, 2023) The Capital District Transportation Authority (CDTA) will make changes to its FLEX On Demand services beginning Monday, August 14, 2023. FLEX is CDTA's popular curb-to-curb service that operates in specific areas where customers request an on-demand ride. Customers will now be able to book and access rides exclusively in the updated CDTA Navigator mobile app.
The transition to booking FLEX On Demand rides in the new Navigator mobile app will begin on Monday, August 14, 2023. Customers can download the Navigator app from the Apple or Google Play Stores. Customers need to create an account to book their FLEX rides. Using the new Navigator app provides an easy, customized experience for customers booking FLEX trips.
Additionally, FLEX will adjust the size of its service areas in Latham, Colonie, and Guilderland to improve wait times for customers. The area will be condensed, and walk-up rides will be discontinued. FLEX service in Latham, Colonie, and Guilderland operates Monday through Saturday from 6:00 a.m. to 10:45 p.m. and on Sundays from 10:00 a.m. to 6:00 p.m. 
FLEX service in southern Saratoga County will be expanded to include the Village of Stillwater beginning Sunday, September 3, 2023. Customers will be able to connect to key locations in Clifton Park, Half Moon, Mechanicville, and Stillwater. FLEX in southern Saratoga County operates Monday through Friday from 7:00 a.m. to 8:00 p.m. and on Saturdays and Sundays from 10:00 a.m. to 6:00 p.m.
FLEX has provided nearly 90,000 rides over the past 12 months. Customers can review the updated coverage areas and get additional details about the Navigator app at www.cdta.org/flex.
Anyone needing more information about the changes coming to FLEX can contact CDTA's Customer Service Center at (518) 482-8822. Customer service representatives are on duty 6:00 a.m. – 7:00 p.m. weekdays and 8:30 a.m. – 6:00 p.m. Saturday and from 8:30 a.m. – 5:00 p.m. on Sunday and holidays.