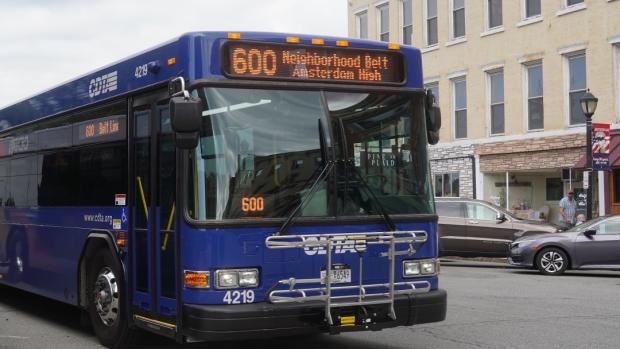 August 28, 2023
Anniversary Marks the Return of Public Transit to the Montgomery County Community
AMSTERDAM, NY (August 28, 2023) The Capital District Transportation Authority (CDTA) is celebrating one year of service in Montgomery County. The expansion into Montgomery County marked the fifth county to join the authority, the first of its kind expansion in more than fifty years. The launch of bus service addressed the limited access to a comprehensive public transportation system for residents following the City of Amsterdam's discontinuation of its municipally operated bus service in April 2018.
"CDTA has enjoyed growing our Capital Region family this year and adding new customers to our network," said CDTA CEO Carm Basile. "Residents of Montgomery County now have an easier time getting to work, the grocery store, and school. It has been a pleasure to work with and get to know the Amsterdam community. We look forward to continuing our service and mobility options for residents."
The service currently consists of four routes, with two of the routes running seven days a week and the "Thruway Xpress" running on weekdays for those commuting to Albany. Total ridership from the launch of service on August 28, 2022, through the end of July 2023 was 195,762.
CDTA is also excited to announce on the one-year anniversary that the City of Amsterdam has joined its Universal Access Program. City employees will have unlimited ridership within CDTA's service network and can use any of CDTA's transit services by swiping their CDTA Navigator card.
"It has been an exciting and productive partnership with CDTA during our first year of working together," said Amsterdam Mayor Michael Cinquanti. "We look forward to continuing to explore the expansion of connections and services for our residents as we enter year two. I'm also thrilled that city employees will now be part of the Universal Access Program, and I urge them all to explore and take advantage of the great options these passes will provide."
Student ridership and the connections to CDTA's route network in Schenectady and Albany are the most popular connections for riders. CDTA has been able to provide transportation for students when many districts are struggling to find school bus drivers. CDTA is also providing a long-distance connection to locations more than 40 miles away, giving people critical connections to jobs, appointments, schooling, and more.
"CDTA's expansion into Montgomery County has had a great impact for our community," said Greater Amsterdam School District Superintendent Rich Ruberti. "Beyond connecting students to their schools, it's become a lifeline for residents, bridging the gap to essential services and opportunities, ensuring no one is left behind in the journey of progress."
CDTA's Montgomery County routes include:
Route #600 (Neighborhood Belt Line)

Route #601 (South Side and Route 30)

Route #602 (Amsterdam to Schenectady)

Route #560 (Thruway Xpress)
For more details about Montgomery County Bus Service, please visit: https://www.cdta.org/montgomery-county-service