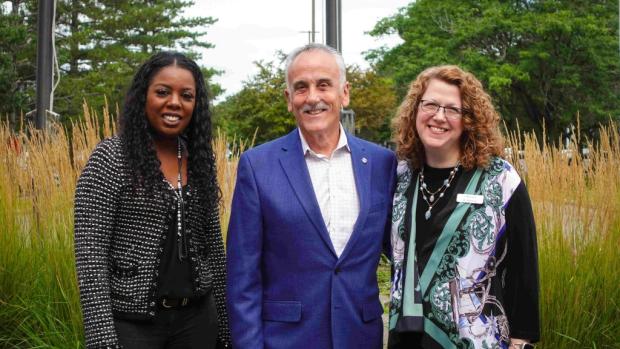 August 24, 2023
Discover Albany partners will enjoy unlimited access to the entire CDTA Route Network thanks to new partnership
ALBANY, NY (AUGUST 24, 2023) The Capital District Transportation Authority (CDTA) has announced that Discover Albany is the latest organization to join its Universal Access Program.
"CDTA is excited to support the needs of the hospitality industry in Albany County by delivering innovative mobility options," said CDTA CEO Carm Basile. "We are delighted to welcome Albany County's official Tourism Promotion Agency to our network of Universal Access partners. We look forward to the partnership that will benefit both business owners and employees, who will no longer have to worry about transportation issues and can focus on providing an outstanding experience to visitors in Albany County."
Employees of more than 175 promotional and non-profit promotional partners of Discover Albany will have unlimited ridership within CDTA's service network. Employees can use any of CDTA's transit services by swiping their CDTA Navigator card. With several Discover Albany partners located on Wolf Road in Colonie, those employees will also be able to utilize CDTA's FLEX On-Demand service. Discover Albany was inspired to help employees in the hospitality industry after seeing CDTA's first of its kind Universal Access partnership with the Downtown Albany Business Improvement District.  
"CDTA's Universal Access program is such an incredible benefit, and we are excited to be able to offer it to our promotional and non-profit promotional partners," said Jill Delaney, President and CEO of Discover Albany. "Staffing has been a hurdle for many of our partners since the pandemic, and this program will help to remove one obstacle that we have seen many employees struggle with -- transportation. We are thrilled to be partnering with CDTA to offer this benefit and hope that it helps alleviate some of the staffing struggles our partners are experiencing, while also encouraging their employees to explore Albany County using their Universal Access card when not at work."
Currently, more than 30 Capital Region colleges and businesses are part of CDTA's Universal Access program. Through the program, schools and businesses can provide convenient measures to reduce travel expenses, stressful commutes, and parking costs. These solutions further enhance the academic experience and work environment for those participating.
For more information about CDTA services visit, https://www.cdta.org/universal-access